Dr. Ronald Pierce (Chiropractor)
An Athletic Path to Chiropractic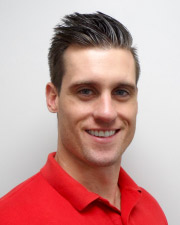 Ronald's interest in Chiropractic began late in his university career. Having been involved in sports all his life, it was a sports injury that originally brought him into a chiropractic office in his early 20s. With a holistic approach to injury prevention & recovery, his chiropractic care not only helped with his recovery, but has since helped prevent additional injuries. As a biology major, Ronald already knew in undergrad that he was interested in pursuing a career in the health field. He decided to enroll in postgraduate Chiropractic programs in St. Louis, Missouri, at one of the top schools in the United States: Logan College of Chiropractic.
Chiropractic Education
Ronald's program at Logan was a doctorate in Chiropractic, with a master's emphasis in sports rehabilitation and injury prevention. He was surrounded by people on campus who were intelligent and highly motivated, pushing each other to achieve the greatest patient care possible. He gained experience treating patients of all ages, from adolescents to the elderly, and of various conditions, including plantar fasciitis, pain stemming from lumbar stenosis and general neck and back pain.
He also treated high-level collegiate athletes multiple times a week, coordinating treatment plans alongside their physiotherapists and athletic trainers at their respective educational institutions. Since graduating, Ronald has continued to hone his skills in the techniques of diversified, cox flexion distraction, and ART.
Outside the Clinic
Ronald enjoys watching and playing many sports, particularly hockey, soccer (sorry, "football") and golf. When not playing sports, he maintains a healthy lifestyle with a high-protein diet and regular weight-lifting exercise. He has always been naturally curious, with big dreams to travel the world. So, he is thrilled about his new life chapter here in Newcastle!
CONTACT US »
---
Dr. Ronald Pierce, Chiropractor | 0191 230 1777