Dr. Meghan Kulczycki (Chiropractor)
We are pleased to welcome Dr Meghan into our office soon – here's a little more about her.
Chiropractic Education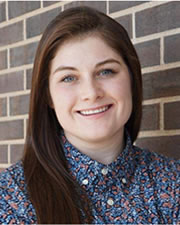 Dr. Meghan Kulczycki was born and raised in Lloydminster, Alberta, Canada. Dr. Kulczycki has received chiropractic care throughout her life starting when she was in competitive sports. With corrective maintenance in adolescence and preventive care for each of her sporting seasons, she has been able to continue to be active in multiple sports. During her second year of university, she had suffered a back injury when playing soccer. She had always dreamed of being a physiotherapist but after her chiropractor helped her through her injury she felt she could help a lot more people with chiropractic care.
She graduated from Palmer College of Chiropractic with her Bachelor of Science and completed her Doctorate of Chiropractic from Palmer in Davenport, IA. She is experienced in many different chiropractic techniques which has allowed her to treat different types of patients of all ages.
Outside the Office
In her free time, you can find Meghan watching and playing sports. She enjoys hockey, soccer, hiking and spending time with her dog. She also enjoys traveling and finding the beauty in all places. She is excited to be in the UK to travel and explore this part of the world.
---
Dr. Meghan Kulczycki, Chiropractor | 0191 230 1777